Power is anything but predictable. There is no saying when the slightest lightning can trigger a blackout, or the tiniest flaw can cause a surge that can knock out your expensive devices. Low voltages can leave you in desperation when you require that cool air from your air conditioner.
The unpredictability of power can also cause loss of property and money. What's worse is that power surges can even be life-threatening. This is where the indispensability of an Uninterrupted Power Supply comes into play. The UPS system not only provides undisrupted power but also shields your electronic appliances from a sudden power surge.
The UPS system is an omnipresent necessity in homes, businesses and commercial establishments. It plays an imminent role in protecting computer systems, telecommunication networks, machinery and delicate equipment that cannot handle the unpredictability of power. In a nutshell, the UPS keeps the work process flowing without a hitch.
Why UPS Dealers Emphasize The Need For UPS Systems
If you were under the impression that power surges and voltage fluctuations were the only problems that required a UPS system, you are not quite right. UPS dealers in Chennai list out various complications that the UPS can efficiently handle, making it an undeniable necessity in your homes and offices.
The UPS allows you to shut down your computer system without losing valuable data systematically.
It supports your devices from the vagaries of unreliable power networks like sags and surges in voltage.
The UPS is a life-saver during blackouts- a common occurrence that can happen when a transformer is damaged. Blackouts can drag on for hours, or even days, depending on the circumstances. An efficient UPS system will prevent any significant inconveniences by keeping the systems functioning smoothly.
An overload of electrical equipment can cause a "brownout". A Brownout mostly occurs when there are too many devices working simultaneously.
A dramatic, unexpected increase in voltage is the culprit behind the destruction of devices like the AC, fridge and television. UPS systems are built to efficiently negate the harm caused by power surges and keep the appliances functioning without any hassles.
The UPS is an excellent option to the noisy, smoke-spewing generators that gulp down fuel by the litres. The unclean power supplied by these generators can cause your operating system to malfunction, resulting in loss of data.
Types Of UPS: A detailed insight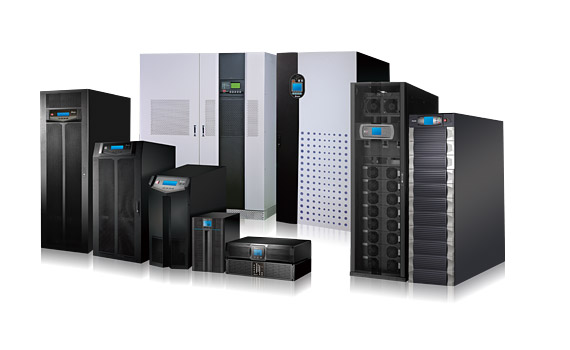 Three major types of UPS are commonly used for domestic and commercial purposes. We give you a detailed explanation of what they are and how they work.
1. Online double conversion
Also known as double conversion UPS, it is the most common UPS type that is used to power large data centres. Online double conversion UPS are highly reliable for the quality power that they supply. This support and protection are vital to handle critical loads and voltage fluctuations that can destroy a whole system of computers.
Application: large scale industries, small enterprises, LAN centres, IT parks.
2. Line-interactive UPS
A line-interactive UPS is very efficient in automatically regulating the voltage fluctuations. Widely used in applications where outages are rare but fluctuations are common, this UPS system supports a wide range of input voltage variations before switching to battery backup.
How it works: The line-interactive UPS continuously feeds power through a conditioner that keeps the battery charged at all times. It preserves battery life by using it as a last resort. Hence, the inverter becomes a part of the output and is always on "switched on" mode.
Applications: Personal computers and small range of electronic equipment.
3. Offline UPS
Also known as a battery backup or stand-by UPS, it is the most budget-friendly option. Engineered to power very basic loads and single workstations, the offline UPS is a viable option for small homes and businesses.
Applications: lights, fans, gaming consoles, domestic appliances.
Standard Features Of A UPS
How well do you know your UPS? Take a note of the standard features that every UPS is designed with:
Built-in alarms to signal power outages.
Cold-start option to boot the UPS without input power.
Automatic Voltage Regulation to deal with power fluctuations.
Expensive models come with LCD screens that display the vital stats of the UPS.
LEDs to indicate the status of the UPS
Multiple outlets to connect to the various devices.
Simple Pointers Given By UPS Dealers To Choose The Right UPS
The requirement and usage of the UPS define the kind of system you will need to choose. What is the intention of use? Do you need it for your home, office or business workplace?
These are the basic queries that will determine the size and running time of your UPS, depending on the devices you want it to power.
The line-interactive UPS is always a tad better than other types because it is built to switch from battery to utility power quickly. An online UPS is the best choice for bigger offices and homes as it can provide uninterrupted, clean energy.
Long backup runtime and the seamless switchover to battery mode are two essential factors that determine the worth of a UPs system. Your UPS should fulfil these criteria if they are to be used for powering sensitive devices
Easy maintenance and user-friendliness
Your UPS dealer should provide you with post-delivery service and maintenance, should any issue arise. Additionally, ensure that the UPS is shock-proof and has user-friendly graphical displays to indicate its working status. Another critical point is to check if the UPS has ample power outlets to connect to the devices of your requirement.
Nantech – The Finest UPS Dealers In Chennai
An unexpected power disruption and the subsequent loss of expensive equipment is the last thing anyone wants to encounter. Where you buy your UPS also matters as much as deciding what model to buy. Being the fundamental part of an organization's efficient workflow, you must source your UPS from the best dealer in the city of Chennai.
Nantech Power Systems is your top choice to procure the UPS system of your choice. We supply top UPS brands with exceptional quality. Nantech also offers the best team of experts for installation and post-installation services. For the safety and security of your electrical equipment, always team with Nantech and get the best UPS systems. Get in touch with us @ sales@nantech.in